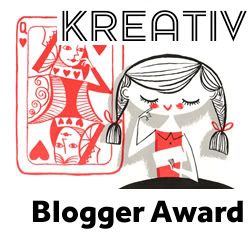 Meredith over at the wonderfully-titled
Or Maybe Eisenstein Should Just Relax
just bestowed upon me the Kreativ Blogger Award! It makes me feel validated to get these awards, like you guys care about what I'm writing almost as much as I do.
Rules
1. Copy the logo and place it on your blog.
Done, because I am obedient, unlike my predecessors...
2. Link to the person who nominated you for this award.
3. Name 7 things about yourself that people might find interesting.
4. Nominate 7 other bloggers, and post links to the 7 blogs you nominate.
5. Leave a comment on each of the blogs letting them know they have been nominated.
Here Goes!
1. I am super tall, and I'm still not totally comfortable with it. I'm 6'1 1/2", and I think I may be still growing, because I grew about 3/4" inch last year. I'm ready
t
o be done!
2. I used to be really in to dog shows, but I haven't been to one in abou
t 6 months. For a long time, I wanted to own and show a Great Dane. Now that I'm living in a 350 square foot apartment, I'm glad I didn't take that plunge.
3. I do a lot of embroidery. It's turning in to a profitable hobby, since many of my friends have commissioned projects from me. Here are a couple of examples (and
if you want to order something, just let me know!)
4. I really like stand-up comedy. Eventually I would like to have a go at it myself, but that will take a long time, because...
5. I have a pretty bad case of performance anxiety. This was not a problem at all while I was active in community theatre, but as soon as my Music studies began here at OU, I started throwing up on a regular basis. I would get sick before each and every voice lesson, and it got old really fast. Last semester, I was advised to drop my music studies when I found a degree plan where I could continue studying film without my two years of music theory, piano, and voice lessons going in the garbage. Now that I'm done with classical performance, there is such a tremendous weight off my shoulders, plus I appreciate classical music so much more because I'm not being forced to perfom stuff I don't like.
6. I come from a family of race car drivers. Both grandpas, my Dad, and my Uncles race cars. My cousins also race motorcycles professionally. I've been going to the racetrack since I was just a wee one, and I'm so used to the loud noise that I can sleep through it, no problem.
7. Speaking of sleep, it's probably my second favorite thing in the world (I'm sure you can guess the first...haha) Every morning when I wake up I think "That was great! I can't wait for bed!" Buying an electric blanket only made it more difficult to get up in the morning. I sleep like a log, even through storms, which we get frequently here in Tornado Alley! The big ones like this usually don't come near me, but I bet one this big would wake me up.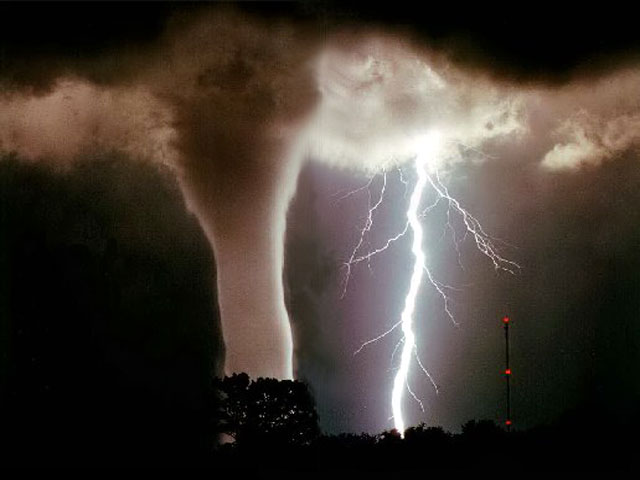 Anyway, I am sure you are thoroughly bored. Here are the seven to whom I am passing the torch:
SassyGinger at
My World Through the Lens of a Camera
: she needs more followers!
Maria at
Let Yourself Go
: Her drawings are RIDICULOUS!!!
Huey at
Gingerology
: gotta support my fellow scientist!
Classic Movie Blog
: I love the Classic Links and Daily Birthday posts!
Jenny the Nipper at
Cinema OCD
: She is doing what I hope to be doing!
Spiffy
: Inspiring me to be a better vintage vixen.
Amy Jeanne at
It'll Take the Snap Out of your Garters!
: a great vintage sewing blog. I can't wait to learn how to sew, then I am going to EAT UP vintage dress patterns.
Well there ya go! Keep them coming!